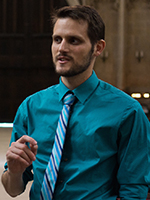 The next talk will be taking place on Friday, February 22 at 11:30am in the 18th Avenue Library, Room 205. The presentation is part of the Music and Science Colloquium and Teaching Series (MASCATS). The purpose of MASCATS is to provide an interdisciplinary perspective on sound, music, and cognitive science, as well as to meet researchers across disciplines. The hope is to foster collaboration across researchers at OSU and in North America. The format of the presentation is a lecture, followed by a meet-and-greet session.
The speaker will be Andrew Goldman, who will be presenting "Using Neuroscience in Music Research: Critical Challenges and Contributions."
Goldman is a Postdoctoral Associate at the Music, Cognition, and the Brain Initiative at Western University in Ontario. His work principally concerns the science of improvisation and music and embodied cognition. He received his PhD from the University of Cambridge in 2015 under the supervision of Prof. Ian Cross at the Centre for Music and Science. From there, he worked as a Presidential Scholar in Society and Neuroscience for 3 years at Columbia University working with Profs. George Lewis, Paul Sajda, and Daphna Shohamy, where he learned to use EEG methods to  investigate the neuroscience of both music and dance improvisation.
Using Neuroscience in Music Research: Critical Challenges and Contributions
Given the increasing prominence of neuroscientific accounts of music-theoretical topics, it is important to continue to critically examine the challenges and contributions of the work. Such reflection allows for more meaningful integration of neuroscientific findings with other areas of music theory, and leads to better designed experiments that are appropriately sensitive to the complexity of the topics they investigate. Here I discuss two challenges and two contributions of integrating neuroscience with music theory. The challenges are the problem of defining behavior (wherein the definitions of musical behavior are under-defined, preventing justified interpretations of neural data) and the problem of reverse inference (wherein the attribution of particular neural activity to particular musical processes is unjustified). The contributions I discuss are comparison (wherein neuroscience allows for apparently distinct topics to be related, and apparently similar topics to be distinguished), and consilience (wherein neuroscience helps build bridges across domains of explanation, both scientific and humanistic). Following this theoretical discussion, I turn to specific empirical work on the neuroscience of musical improvisation. I use the theoretical ideas to critique past work as well as highlight its value, and then show how the critical reflection has influenced my own empirical work. In particular, I present a recent EEG study in which we examined differences in how musicians categorize musical structures as a function of their experience with improvisational music-making practices, showing an important characteristic of an improvisatory way of knowing. A final emergent theme from this critical analysis is that not all neuroscience studies are the same, and vary not only in the topics they address and methods they use to address them, but also in the epistemology motivating their claims.